Providing cash flow forecasts and cash management for your clients is a great way to increase your value to clients, and help their business.
But only if you can do it a timely, and accurate manner.
That's where cash flow software comes in.
If you're a bookkeeper, or someone who is already extremely familiar with the books of their clients, adding cash flow services can easily be done with the right cash flow management tools.
On the Agenda:
Note: New to cash flow forecasting and management? Check out these resources to master the fundamentals:
Cashflow management software enables easy management of past and future cash flow to and from a business.
Cash flow management software does this by integrating with your accounting software (i.e. Xero, QuickBooks online, Sage, ect..) to provide automated and accurate forecasts and insights.
They allow bookkeepers, advisors, and businesses to go from raw accounting data to cash flow planning, cash management, accounts receivable and payable management, and more in mere minutes.
Check out our full guide on cash flow management software for a full breakdown of all the benefits.
Note: See just how much quicker it can be here.
WHY SHOULD I USE CASH FLOW MANAGEMENT SOFTWARE?
So we've established that cash flow management software makes forecasting cash quicker, easier and more accurate, but why bother in the first place? So what?
Value.
In our opinion, for bookkeepers and advisors, there's no easier way to increase the value you provide to your clients than with a cash flow forecast and cash management.
Here's a quick breakdown of key way's you and your clients will benefit from cash flow management software:
Value to you (as a bookkeeper or advisor):
High returns:
Start selling cash flow services for $500+ a month.
With the right tools in place cash flow management takes just a couple hours a month!
Low investment:
Get cash flow management software from *$32/month.
That means for 2 hours of work a month, and $32 you could make $500+ per client!
Value to your clients business:
View their future and current cash position

Easily track overdue payments and receivables

Alerts them to possible cash shortages

Alerts them to periods when they'll have surplus cash.

Plan for seasonal differences in earning/spending

Helps inform future budgeting

Helps inform business planning

Helps answer key operational questions like:
Can my team afford to take on that big project?

How is inflation affecting my costs?

Can we hire a new staff member this year?

What happens if our biggest client pays late?

Is it possible for us to delay a payment?
That's a lot of value, and why you can charge for the value you provide!
WHAT MAKES A GOOD CASH FLOW FORECASTING SOFTWARE?
Great cash flow forecasting software will let you provide all the above benefits while being easy to use, easy to communicate and of course low cost.
That's where Helm comes in.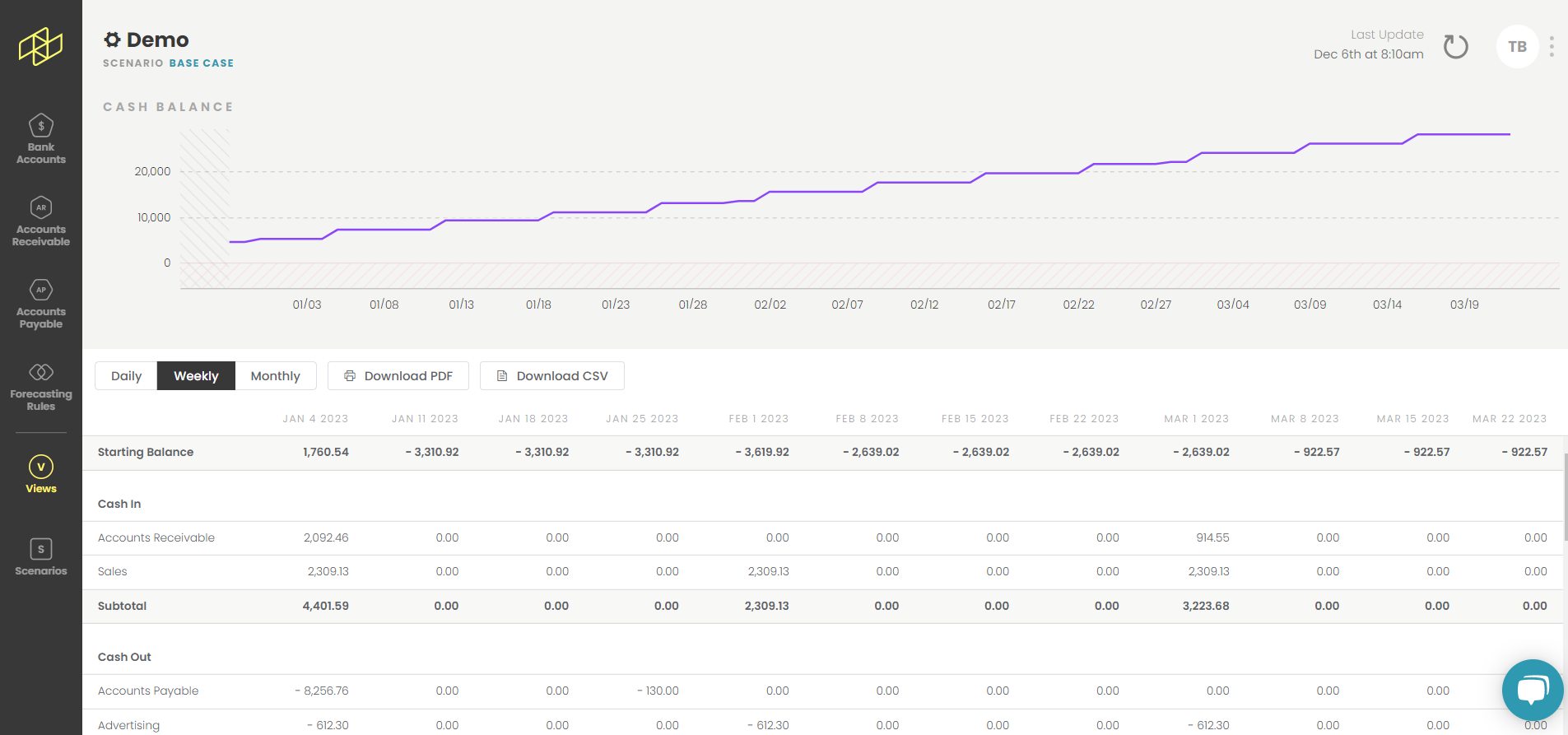 Above: Screenshot of a cash flow forecast in Helm.
Helm let's you provide:
Automated and fully customizable forecasts in minutes

Unlimited scenario planning

AR planning

AP planning

Key KPI dashboard for quick insights into a client's business

Easy to communicate forecasts with multiple views to match your client's communication style

and more!
Watch a quick introduction to Helm below, and learn more here!