82% of business closures can be attributed to inadequate cash management. And with small business and medium sized business reprsenting 99.9% (is this a soap commercial?) of all businesses in the US and Canada there is a big need for controller services.
Business are calling out for these services whether they know what to call them, or who to ask. If you're a bookkeeper or advisor this is your sign to start offering controller services. If your a business owner, don't be part of the 82%, take advantage of the knowledge of accounting professionals.
Not sure if your ready to offer controller services? Take our controller readiness quiz and see how close you already are!
A peak inside: 
WHAT DOES AN OUTSOURCED CONTROLLER DO?
But first, what the heck is a financial controller anyway? Controllers handle a range of financial activities including: supervising daily bookkeeping, administering payroll, managing accounts payable, managing accounts receivable, providing advanced financial reports, creating budgets, creating cash flow forecasts, creating budgets, and providing business and financial advice­.
Not all controllers handle all the same tasks, or all the ones listed above, but in short they work to improve financial operations and provided financial leadership.
Financial controllers can either be brought on in-house or hired where they're known as outsourced controllers. Large companies can typical afford to hire their own in house accounting department, where as small and medium sized business wisely take advantage of outsourced accounting services (more on that below).
You may see controllers market there services with a number of different titles including: Fractional CFO, Virtual Controller, part-time controller, and fractional controller. Each provide the same solution, financial leadership at a fraction of the salary of a full-time controller.
HOW DO OUTSOURCED CONTROLLER SERVICES BENEFIT BUSINESSES?
As we noted at the top, cash management and accounting tend to be weak points for businesses. Which isn't surprising, businesses owners tend not to be financial experts, if they were they probably would have opened up a financial or accounting firm, and your favorite restaurant wouldn't exist.
Ultimately, businesses care about the financial health of their business and making confident business decisions. An outsourced controller accomplishes this by taking care of the financial side of things, freeing up business owners and staff to work in their business and on what they're passionate about.
Outsourced controller services also cost a fraction of the cost to hire and train an in-house full-time controller, which can easily exceed $100,000 (more on pricing and cost savings later).
WHEN TO USE OUTSOURCED CONTROLLER SERVICES
 Businesses in the $5-50 million in revenue range tend to be best suited for outsourced controllership services. Why? Larger companies tend to have the resources and greater need for their own accounting department. Where as businesses with less than $1 million in revenue tend to lack the financial complexity to necessitate an outsourced controller.
If you're a bookkeeper or advisor, and your hearing your clients say things like:
"I'm not sure we'll have enough money to start that project next month"
"How much cash should we keep on hand"
"I'd like to hire a new staff member, but I'm not sure we can afford it"
That's your sign to offer controllership services! It's unlikely your clients are going to come to you asking for:
"outsourced controller services, and a side of fries please"
What they will do is express concern over their financial performance and growth opportunities.
Many bookkeepers and advisors we've spoken too can be initially apprehensive about offering controller services if they haven't in the past, but 9 out of 10 times they already have the financial know-how, and their client's trusts them, they just lack confidence.
PROBLEMS BUSINESSES HAVE WITH OUTSOURCING THEIR CONTROLLER FUNCTION
Some business owners tend to be skeptically of the value of all accounting services, while others are more than happy to have someone 'deal with' the books.
To overcome this, advisors should look to calculate the value and cost of their services. Don't overlook the value of the time your services free-up (you'd be surprised how much time business owners spend in spreadsheets and doing work they don't want to be doing).
Another problem is simply lack of awareness. If you walked into 100 businesses and asked the owner what an outsourced controller was, how many do you think could give an answer?
Considering 82% of business failures can be attributed to poor cash management, maybe 18 out of 100 optimistically.
Which isn't an insult to business owners, their expertise and knowledge is elsewhere. Accounting professionals are the ones with the financial expertise. Don't be afraid to use that expertise to provide advice and suggest services, that is after all what your client hired and trusts you for.
BENEFITS OF OUTSOURCING YOUR CONTROLLER SERVICES
For business owners, the biggest benefit is the cost savings over hiring in-house staff. Okay we lied, the biggest benefit is the financial expertise you gain to help with business growth. Oh and you add someone to your team with industry knowledge and experience.
But the cost savings are pretty impressive too!
A quick google search shows that the average controller salary is 104,419 in 2023. Below are a couple screenshots from Indeed showing average controller pay:
Not many small businesses (or even medium sized businesses for that matter) that we know carry a spare 100k in their pocket.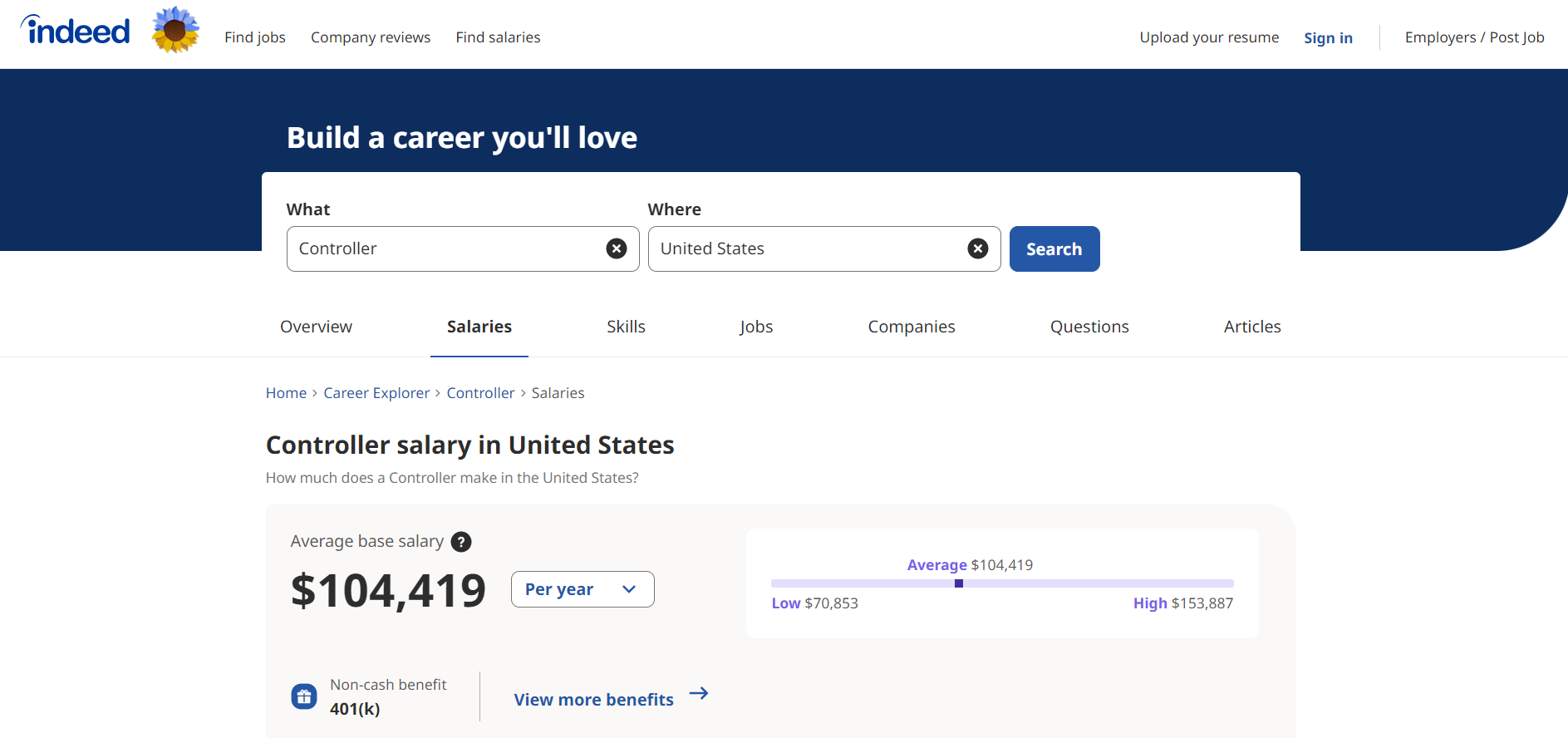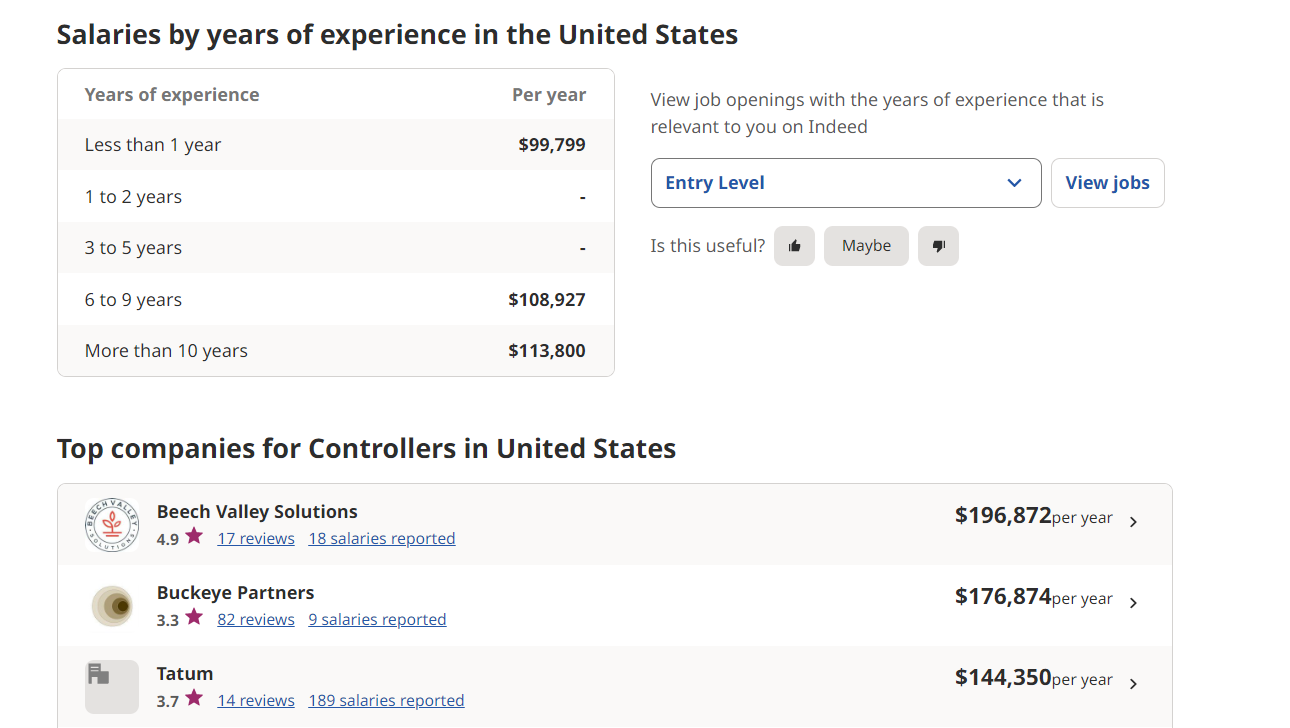 Another quick google search will shows that outsourced controllers typically charge somewhere in the range of $2,000-3,500 a month. Even on the high end that's only $42,000 ($3,500 x 12 months), or a savings of $62,419 ($104,419 avg. full time controller salary – $42,000) for business owners.
On the low range were talking savings of $80,419 for businesses per year! And that's just using the average controller salary, not necessarily one that's experienced and familiar with a business' industry.
Business owners get to save tens of thousands of dollars, and bookkeepers and advisors get to charge more and do more engaging work. That sounds like a win-win if we ever heard one.
TRAINING COSTS REDUCTION
If your looking to hire a financial controller, is not just their salary to consider. There're also training costs, hiring costs, and benefits to consider, further increasing the in-house cost.
PROFESSIONAL FINANCIAL ADVICE AND GUIDANCE
Of course, the costs savings wouldn't mean much if weren't still getting great service. At the end of the day, a controller, whether in-house or outsourced is a financial expert working to help guide your business.
ACCESS TO FINANCIAL TOOLS
For business owners who aren't sure what financial software they need, what's worth it and what's just marketing fluff and fancy graphs,  financial controllers already have and utilize the best tools everyday. Saving businesses time and money, while providing the best possible service and help make critical business decisions.
STRATEGIC GUIDANCE
Greater insight into financials, and future financial health also helps businesses make better strategic decisions.
FEWER DISTRACTIONS AND INCREASED EFFICIENCY
Business owners all want to spend more time in their business and less time working on it, handling accounting responsibilities. Outsourced controllers free business owners and staff to work on what they are passionate about, and focus on the daily operations of the business.
OUTSOURCED CONTROLLER SERVICES
If you'd like to see how Helm can help bookkeepers and advisors offer outsourced controllership services you can learn more here.
Until next time!