Cash is king for any business. Today, we'll be looking at 10 of the top cash flow forecasting and management apps on the market. For each one you'll find some key features, drawbacks and the latest pricing
We'll be highlighting tools with a range of pricing and feature sets to help you find the best one for your business!
Interested in learning more about cash management and cash flow forecasting?
Check out these resources:
What is a Cash Flow Forecast and Why is it Important for Small Businesses?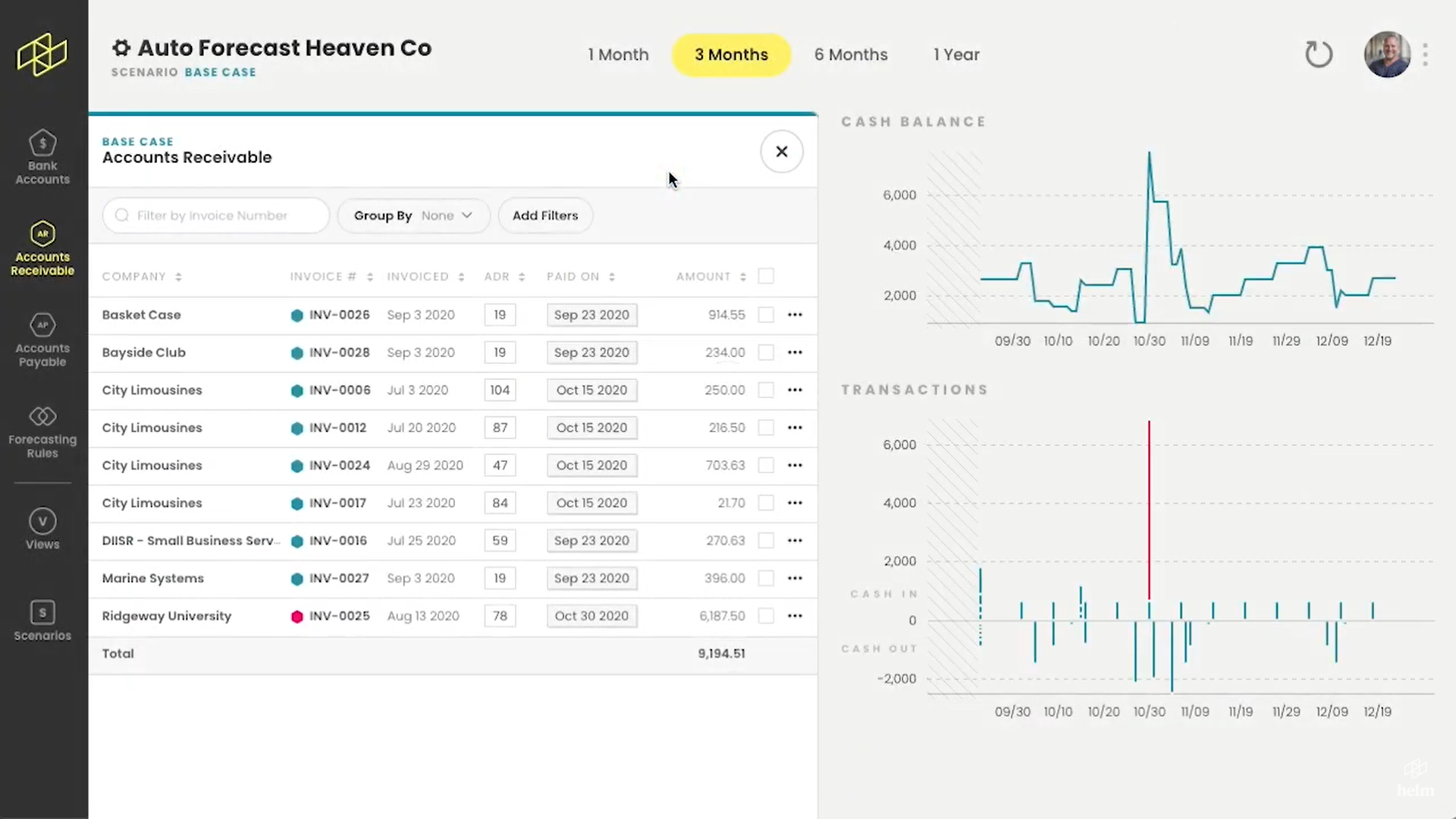 Designed by accountants and small business advisors, Helm lets you see your future cash position in real-time, so you can make confident business decisions without wasting hours in spreadsheets.
Key Features:
Integrates with: QuickBooks Online, Xero, Sage and Veem.
Provides 1-month, 3-month, 6-month and 12-month forecasting with various viewing options
Test unlimited scenarios side-by-side
Analyses the historic transaction data of each contact to predict how you will be paid in the future
Key financial metric dashboard to stay on top of your business' financial health
Make payments directly from Helm through Veem
Cash flow dashboard for understanding financial health at a glance
Drawbacks:
Limited to forecasting up to one 1 year
While you can export reports to Google Sheets/Excel Helm currently does not support any in app budgeting.
Price: US$ 32/month per connection
Cash Flow Frog gives you a clear picture of your business' current cash balance and see much cash you will have at any given point in time.
Key Features:
Integrates with : Xero, FreshBooks, QuickBooks Online, QuickBooks Desktop, and Sage Intacct
Analyze and plan your cash flow up to 3 years ahead using daily, weekly, monthly and quarterly perspectives
View planned versus actual reports
Consolidates data from multiple companies into a single cash flow forecast
Drawbacks:
Number of users is limited to 2 and 10 users for the standard and pro plans respectively
Number of scenarios you test is limited in the standard plan to just 3
Pricing is based on revenue (increases based on revenue)
Price:
$US 23 -95/month (scales by plan and revenue)
Cash flow tool is designed small business users and and offers a free lite version of their software with a limited feature set.
Key Features:
Free lite version available
Integrates with QuickBooks Online and QuickBooks Desktop
Provides 4-week and 6-month forecasting
Unlimited users in Plus and Pro plans (1 Users in free plan)
Includes a cash flow calendar and what-if planning
Access to built in video coaching and tips
Drawbacks:
Limited to 6-month forecasting
Features highly dependent on which plan you choose
Pricing highly dependent on plan you choose
Price: US$ 0 -100/month per business connected (scales by plan)
Fathom combines insightful reporting, fast cash flow forecasting and actionable financial insights into one refreshingly easy business management solution.
Key Features:
Integrates with QuickBooks Online, QuickBooks Desktop and Xero
Tracks key KPIs and financial reporting and analysis for metrics like profit and growth
Creates 'three-way cash flow forecasts' that project P&L, Balance Sheet & Cash Flow statements.
Schedule the delivery of financial reports
Create custom reports
Forecasts up to 3 years
Drawbacks:
Cash flow forecasts limited to monthly, quarterly or annually (no daily or weekly)
Price: Starting at US$ 54/month (scales with number of companies connected)
Get a real-time, visual view of your cash flow and make more confident decisions about the future of your business.
Key Features:
Integrates with QuickBooks Online, Xero and FreeAgent
Budgeting to actual reporting
Weekly cash flow summary email
Up to 3 year cash flow forecasting
Drawbacks:
Max users: 3-100 (depending on plan)
Number of scenarios limited by plan (5-100)
Price: US$ 59- 249/month (based on plan and billing option)
Dryrun provides an automated, cloud-based solution for cash management, financial modeling, and business forecasts.
Key Features:
Integrates with: QuickBooks Online, Xero, QuickBooks Desktop, Sage Accounting, and Pipedrive
Unlimited forecasts & scenarios
Auto forecast capability
Consolidate scenarios
Weekly action reports
Live currency conversion
Drawbacks:
Takes some time to learn the interface
Focus on forward-looking rather than past reporting
Price on the high end
Price: US$ 200-400/month
Created to accelerate growth. Build growth plans, scenario test, measure plan vs. actual. Gain financial excellence and find your path to faster growth.
Key Features:
5 year rolling forecasts
Financial metrics and reporting dashboards
Create and manage operating plans and budgets
Sales & workforce planning
Revenue growth & business modeling
Drawbacks:
Greater focus on financial reporting and strategic planning than cash flow management
Feature set less tailored to small businesses
High cost
Price: US$ 500-1000/month
Live, accurate, updating predictions generated from your own accounting data keep you on track, ready for you to layer your own plans on top.
Key Features:
3-way cash flow and financial reporting and predictions

Analyzes customer payment trends

Predict Sales and Expense Activity

Google Sheets hot-links
Drawbacks:
Although they were recently acquired by Sage, currently Futrli only integrates with Xero and QuickBooks

3-way forecasting may not be what small business owners want when looking for a cash flow management tool

Less visual than other tools on the market
Price: US$ 20-35/month per connection
QuickBooks Online offers a built-in tool free for users of their accounting software. For QBO users, it serves as a great starting point for newcomers to cash management.
Check out our guide on how to use QBO's forecasting tool here.
Some Key Features:
Creates forecasts for up to the next 12 months

Lets you view all your upcoming transactions

Includes basic scenario planning
Drawbacks:
Lacks ability to compare multiple scenarios at once

Simple feature set compared to others on the list
Price: *Included with subscription to QBO
For Xero users who aren't currently doing any kind of cash flow forecasting or management Xero's built in tool can be a great starting place. Best of all it comes free with all levels of your Xero subscription!
Check out our guide on how to use Xero's forecasting tool here.
Some Key Features:
Offers simple 7-day and 30-day cash flow reporting

Allows yo to see upcoming invoices and bills to paid and your projected cash balance
Drawbacks:
Limited to 7-day and 30-day forecasts

Lacks any form of scenario planning
Price: *Included with subscription to Xero
We've seen 10 of the top cash flow apps on the market, there's more out there and more to learn about each. Remember you know your business better than anyone, so prioritize the features most important to you, to find the right tool!
Don't be afraid to try them for yourself, most cash flow forecasting apps have a free trial period where you test them with your data.
Until next time!